Heeyyy Guys,
I have a super surprise for you all today.... an review, a interview, a widget AND a giveaway!! Squee! Author P.T. Michelle ( @PT_Michelle ) and i have been working on this behind the scenes. Amazon has recently made the first few chapters embedable...so heres a snippet!! Hope you enjoy and keep scrolling down for your chance to win!!!!!
My Review
Title:
The Brightest Kind of Darkness
Author:
P.T. Michelle
Series Info:
Book 1 of The brightest Kind of Darkness
Theme:
Darkness vs. Lightness, Dreams, Fate
Rating:
5 hearts
Summary: Nara has an unusual gift. She came see her entire next day in her dreams. While she tries not to interfere, one day when she dreams of a bombing in her school she cant stay quiet... but soon her life starts getting chaotic. She meets a new gut at school Ethan who seems to be able to balance her..but suspcious, dangerous things start to happen and she cant tell whos behind them!
My Overall Thoughts:
Excellent!! The action started from the very first page!! The timing and pace were great!! The romance was sweet and steamy! The mystery was infalliable with soo many twists! The authors writing style was beautiful. I was blown away by how perfect the book seemed, especially considering it was self published! Other self pubished books ive read had errors or were very short. This book didnt have any of those problems!! Its def ready for prime time! I honestly think its ranked in the top books ive read this year!!
What I Liked:
My favorite part of the book, beside the scorching hot Ethan, was the last chapter. The last chapter is very visual and it is there that you learn the meaning behind the title and the cover! Its so vivid i felt like i was part of the story. The last chapter also introduces a new mystery to be explored more in book 2. The ending left enough open to make for a great sequal but tied up enough that you feel satistfied. I love the ending...although i continue to think about Nara and Ethan. I miss their story! (Fyi: a short story and a print copy will be coming out in November, then book 2 sometime after that)
What I Didn't Like:
Honestly, the only thing i didnt like was the format...Ive come to depise kindle!!! Its soo slow and laggy on my android...maybe my phone is too slow..but i almost screamed with the sluggishness!! It was very distracting when i was reading...i much prefer the moon reader ebook app!! I will have to remember this!! As for the story or reading i didnt find anything to dislike!!
My Favorite Quote:
"Knowing what was coming-even if i didnt like it- was better than not knowing what would happen if i changed something."
Amazon | Shelfari | Goodreads
The Fast Five: Interview with P.T. Michelle
1.
How did you pick the names for your charcters?
I initially chose Nara's name when I heard the name Inara on a TV show (shout out to Firefly!). When I started researching the meaning behind Inara, I was so excited because the description of "illuminating or ray-of-light" fit perfectly into the theme of my book "lightness vs darkness". Ethan's name means "solid and enduring" and that's also a perfect name for his character, because he's already been through a lot in book one and will have to face even more trials in book two.
2.
I love quotes!! What would you say is your favorite Quote(s) from the book?
Here are a few quotes from Brightest Kind of Darkness...
Ethan had this knack for leaving me breathless and teetering. Like a chair tilted on two legs, I was never sure if I was going to topple over or land on solid ground.
Ethan clasped my wrist and pulled me into his arms, holding me close. "I'll always be here for you."
Ethan leaned close and I closed my eyes as he lightly kissed my cheekbone, then my forehead. He had no idea that his gentle kiss had melted something inside me, how much I craved the physical connection.
3.
If you could summarize your book in one sentence, how would that sentence go?
Brightest Kind of Darkness is about a girl with the ability to see the future, but when that power fails her, will the boy who seems to know her better than anyone be able to save her?
4.
What can we expect from book 2?
Book two takes Nara and Ethan even deeper into uncovering who and what he is. At the same time, Nara will have to make some difficult decisions about her own heritage and the responsibility her powers bring her. There will be more mystery, new dangers, surprising discoveries and of course the stakes will be raised for Ethan and Nara. Can their romance survive it?
5.
Since this series tackles dreams and seeing the future, what other ya theme would you like to explore in your writing (ie fairies, vampires, contempory topics etc)?
I'd like to write a story that incorporates magical realism or maybe an alternate reality. I think I'll always have some sort of paranormal element or unique twist in my books. I just can't seem to stay away from it.
More about the Author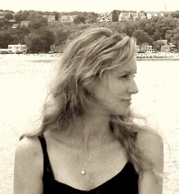 P.T. Michelle is the young adult pseudonym of Patrice Michelle, author of fifteen romance novels and novellas. When P.T. isn't writing, she can usually be found reading or taking pictures of landscapes, sunsets and anything beautiful or odd in nature.
P.T. loves to hear from readers. If want to share your thoughts on her books, click on the contact link above and send her an email.
She's currently hard at work on the next book in the series.
Her Blog
|
Her Twitter
|
Her Facebook
The Giveaway
Wheee after all that scrolling... FINALLY the giveaway!! Ok, so the giveaway is for THREE (3) winners. Each will win the Ebook (amazon kindle version) of The Brightest Kind of Darkness!! (**If you dont have an actual Kindle device, you can read it on any iphone or android using the free app -OR- you can try the new cloud reader, where it just shows up in the internet browser! Check out the
Amazon Kindle Help page
for more info on reading Kindle books.**)
To Enter, all you have to do is add the widget to your blog. If you don't have a blog or webspace, you can also add a link back to this post on either twitter or fb (once a day, with a max of 7 total).
Each person can get up to 15 entires (1 for widget posting, 7 for twitter, and 7 for fb) although only one is required to have a chance to win. For each entry, please make a separate comment below with a direct link and your email or a way to contact you. At the end of the contest (Tuesday, Oct. 11th at midnight), I will randomly pick 3 winners out of the comments using random.org. This is open to anyone who is able to receive and view kindle books!
**GOOD LUCK TO EVERYONE**
Did i forget something or do you have a question? Just use the "contact me" button on the bottom bar or leave a comment! Thanks!